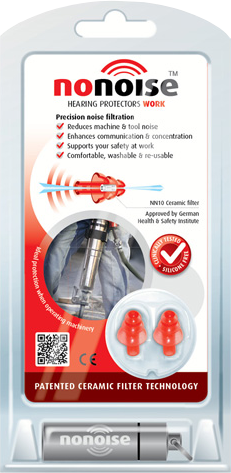 The most advanced universal-fit hearing defence ever
It's all very well trying to block out all sound – but sometimes you still need to be able to hear conversation, the cry of a baby, a car horn etc. NoNoise's patented precision-tuning means you can reduce the noises you don't want to hear, but keep those that you do. And because our filters are formed with the Venturi-shaped sound channel, from high grade ceramic material (zirconium oxide) at 2,715°C, the internal aperture surface is perfectly smooth. This results in more precise sound attenuation than with plastic (PE) filters which leave a rough, uneven channel surface.
Reduces machine & tool noise
Enhances communication & concentration
Supports your safety at work
Approved by German Health & Safety Institute
Why are these Hearing Protectors different?
Developed over 20 years by leading audiology experts, NoNoise WORK Hearing Protectors are superior to traditional foam, wax or silicone earplugs.
Precision-tuned, patented ceramic sound filters ensure maximum protection from dangerous levels of noise in work or factory environments over 80dB, yet allow you to listen clearly to surrounding conversation without a muffled effect.
Protection/attenuation data
NoNoise WORK Hearing Protectors are precisely tuned for optimum attenuation at the frequencies required in work or factory environments.
The independently measured mean sound attenuation (EN352-2:2002) is 29.5dB at the higher (most damaging) frequencies.

Ellen McEvoy, Kilconny
The protectors are comfortable, easy to insert and are a delight when it comes to holding a normal conversation without having to remove them. I often wear them for long periods and always without any discomfort.
Teague Lynch, Adamstow
I have used these for over two years and genuinely cannot recommend them highly enough. They do what it says they do brilliantly and are so comfortable! They will save your hearing and because they do not blank out speech, may well save your life compared with foam plugs! You know you're worth it!
Hearing Loss
10% of young people between 16 and 30 have permanent hearing damage and the numbers are increasing.

Noise levels are measured in decibels (dB). At sound levels of 110dB or more, you will risk immediate and permanent hearing damage. At lower sound volumes (80-110dB) the risk to your hearing is dependent on the duration for which you are exposed to the sound.

Note that the dB scale is logarithmic, i.e. an increase of just 3dB results in the effective doubling of the sound strength; this also means that for every increase of 3dB the time it takes to cause permanent hearing damage is halved.
Get a FREE consultation
For a FREE consultation or if you want more information fill in the form below to be contacted ASAP.
| dB | Sound situation | Damage |
| --- | --- | --- |
| 150 | Gun shot, fireworks blast | Immediate |
| 130 | Sound peak during music concert | Immediate |
| 120 | Pile-driving machine, hammer drill | Immediate |
| 100 | Drums, club, disco | After 5 minutes |
| 95 | Wind noise on a motorbike | After 15 minutes |
| 92 | Small compressor, power drill | After 30 minutes |
| 89 | Lawn mower | After 1 hour |
| 86 | Busy city traffic, passing train | After 2 hours |
| 83 | In passenger aeroplane, loud voices | After 4 hours |
| 60/80 | Snoring, night time noise | Sleep deprivation |
Why Choose NoNoise Earplugs?
Noise-induced deafness is irreversible, so hearing protection is essential in many environments. Hearing impairment is not caused overnight – it is generally incremental damage over a period of time.

Damage occurs at noise levels over 80dB, with each 3dB increase equating to a doubling of noise.

Hearing protectors attenuate the noise, but only make sense if they are worn all the time during noise exposure.

So NoNoise Hearing Protectors are designed to fit comfortably, cause no irritation, and allow you to communicate normally.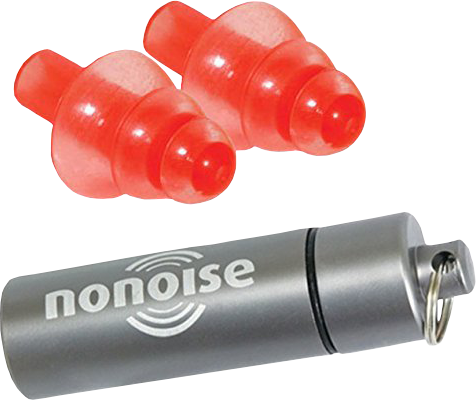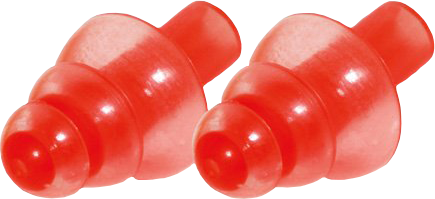 Highest Precision
NoNoise patented sound filters are made from a special ceramic material including zirconium oxide, at temperatures of over 2,700°C, under strictly controlled conditions. The quality of this high-tech ceramic material ensures precision attenuation and high definition sound.

The Venturi-shaped channel running through the centre of the filter absorbs sound waves differently from other filters ensuring best quality, safe, dampened sound.
More than 20 years of experience
NoNoise Hearing Protectors have been developed by leading audiologists and hearing technicians in the Netherlands over 20 years. We are very experienced with designing and producing professional custom-fit hearing protectors. Our experience and unique technology means that you are in safe hands when it comes to protecting your valuable hearing.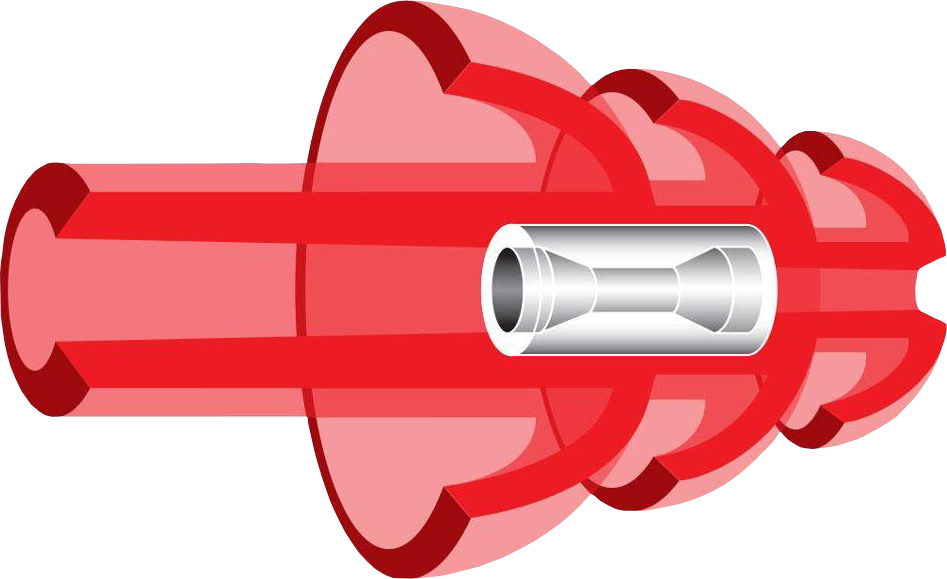 Brian Mullen, Callaghane
Having used the industrial ear plugs I have to say these are brilliant and the best buy in terms of ear protection.
Aidan Maguire, Kinsale
Apart from using them when on bike, I use mine when using electric saw and chainsaw. Amazing bit of kit, highly recommended!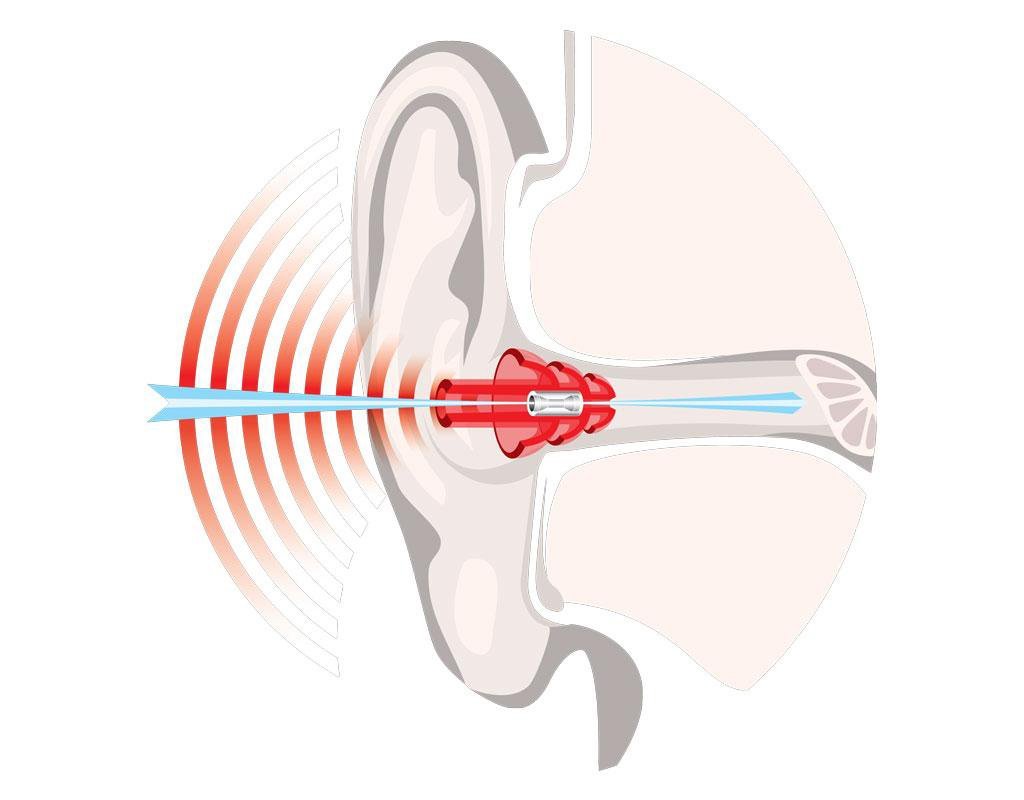 Approved
NoNoise production is independently certified to ISO 9001:2008.

Produced in an industry-leading, state of the art manufacturing facility, NoNoise Hearing Protectors are tested by the internationally acknowledged Institute for Health and Safety at Work (IFA) and the Social Accident Insurance (DGIV), in Germany. All NoNoise products comply with and surpass the strict European guidelines of EN352-2:2002.
No muffling effect - no "blocked ear" feeling with NoNoise products
Traditional ear plugs leave your hearing feeling blocked and unnatural. This muffling or occlusion can be disturbing over long periods and can even affect our balance and physical judgement. We have engineered this effect out of NoNoise Hearing Protectors, for ultimate comfort and practicality.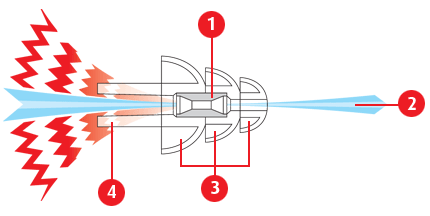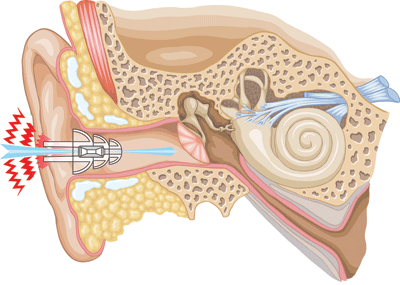 Silicone-free construction
Many people have health concerns over the use of silicone (medical grade or otherwise), so we offer a silicone-free construction – particularly appreciated by those who wear their Hearing Protectors regularly.
Comfortable & re-usable
Unique thermoplastic outer construction gives a feeling of supreme softness and comfort, even when you are sleeping with NoNoise Hearing Protectors or wearing them for extended periods. And with no muffling effect you will barely notice you are wearing them.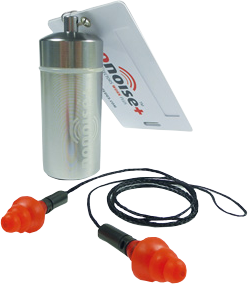 Maureen O'Reilly, Ballingary
In short, this product "does exactly what it says on the tin". Would I buy them? Yes. Do I think they are worth the money? Definitely. Will I continue using them? Absolutely!
Lorcan O'Ryan, Glentane
They're comfortable for all-day use, and come in a neat metal container.
---
How to use
Gently lift up each ear and pull backwards. Insert hearing protector, rotating until it fits snugly. To remove, rotate and gently pull out.
This is a Universal Fit product. If you have particularly wide ear canals or wide fingers, you may find it helpful to carry a small pair of tweezers, to aid removal.
Warnings
NoNoise+ Hearing Protectors function optimally only when inserted correctly.
Do not use if you have an ear infection.
Hearing protectors should be worn in any environment where noise levels are 80dB or more. If you are unsure of the decibel level, it is always better to use hearing protection and protect yourself.
Noise levels can vary. The amplitude (volume) you hear is affected by the distance you are from the noise source and other conditions such as whether you are indoors or outdoors. Always ensure that wherever possible, the volume (after taking into account the attenuation by your Hearing Protectors) stays below 80dB.
Unique sound port from connector cord maintains hearing clarity and increases SNR attenuation by an additional 2dB.
Should your hearing protectors become cracked, broken or damaged in any way, do not use and replace immediately.
This product may be adversely affected by certain chemical sub stances. Use NoNoise Hearing Protector Cleaning Kit to avoid damage from certain chemical cleaning agents.
Do not remove the internal filter from the hearing protectors: without the filter there is no sound attenuation.
Do not use Connector Cord if there is a risk that the cord can be caught or tangled in moving parts.
Keep out of reach of children and animals.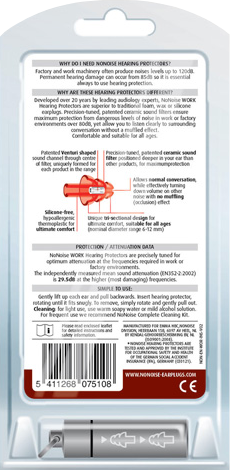 Why do I need NoNoise Hearing Protectors?
Factory and work machinery often produce noises levels up to 120dB. Permanent hearing damage can occur from 85dB so it is essential always to use hearing protection.